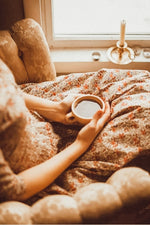 Mood Board: Midsummer Wanders Collection
How is it almost July?
That is the main question I asked myself as I sat down to plan and design the last summer line of the season. 
This collection is always one of my favorites. A last ditch attempt to hold onto all the summer vibes in my studio before the panic of pumpking making starts and my studio transforms into autumn gold and umber. For a couple weeks I can stay among the summer blooms and blossoms.
Over the past months, Adam and I have been doing a lot of hill walking and park explorations as I slowly start to exercise more and more after my surgery last year. Walking was one of the ways I could push myself when I wasn't feeling well and couldn't handle the gym. I kept planning small day trip adventures to get me moving. Along the way I kept finding the most magical forests, splendid castles, and the magic of Scotland. 
These walks and adventures have inspired the brand new line: Midsummer Wanders
Whenever I start a line I always start with collecting a range of images for my mood board and words I want to evoke. Sometimes these even turn into product listing names! My midsummer range started with castle walks, fresh picked berries, warm midsummer sun, blooms, messy gardens, dirty feet, wispy hair, fields of flowers, weekend adventures, fresh baked cakes, and relaxing moments. 
Together with 20-30 images I start to collect fabric colors and ideas. I play around with these for about a week trying to make decisions and pestering Adam during the new Stranger Things to see if he likes all the combos I have picked out. Just ask him, I put in A LOT of time to my fabric choices to make sure the line is cohesive and all working together. Plus, as an employee of one, I survey you guys a lot and bother Adam to make sure I'm on track. 
While I'm picking fabrics, I also start to work with local businesses and my wholesalers to curate home goods for the line. It varies but I normally add in 5-10 new pieces for each line to keep the shop fresh! 
I can't give away TOO much but I am so excited to start sharing this line with you all. It is the last petal drop of the season and the last summery pieces I will be doing for the year. It's the perfect time to pick up a staple H+H piece and I love the cushions this time of year! You can keep them seasonal or work with them year round.
I'll be sharing more soon... and enjoy my little mood board for Midsummer Wanders!
P.S. I've also really missed this space a lot. When my shop was a bit less busy I dedicated a lot of time to my blog and sharing a little bit more of the behind the scenes on my design process, studio bits, and personal life. I want to breath a little bit of me back into the website and blog. 
So stay tuned! I am hoping to post here a bit more over the months ahead!