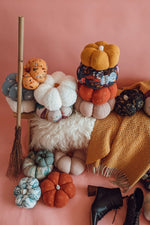 Our First Launch Is Here: Autumn Harvest
How is it already August!?
I'm sitting at my desk listening to a brand new Autumn playlist I just made on Spotify. I'm jamming away, weighing pumpkins and products for the very first Autumn launch of 2021. If you would have told me a year ago I would be in a studio filled with 200 fabric pumpkins prepping for an Autumn launch on August 3rd I would have snort laughed, yes I do that!  
One year ago, I made the decision to re-brand and work on an ENTIRELY new product range and direction for my business. I am going to be honest, it all started with a trip to a local fabric shop here in Glasgow. I bought some velvet and tartan wool and made my first ever proto type pumpkin. It kicked me into starting my dream shop, a place where my own handmade creations meet handmade and curated home decor.
HERE I AM GUYS. 700 pumpkins in from last year! 
This year I wanted a way to keep the fall season exciting for me, as a creative, and for you guys as we jounrey into the glorious Autumn months ahead! I will be turning out THREE totally exclusive and different launches this year. Each one will have it's own colors, theme, products, and yes...PUMPKINS GALORE! 
Today I am launching Autumn Harvest! It's the first little peek of Autumn and it's filled with lots of colors as we slowly transition over to fall and the days start to get darker. August is also a time where we harvest, prepare our gardens, and plan for the season ahead. It was only fitting that I gave a little nod to the importance of this month. 
The line is filled with color from harvest moon yellows, lovely greens, fuzzy whites, and lots of blues and pinks. It pushed me every so slightly out of my comfort zone and I've loved styling all these bits together. I'm hoping the wide color range means there is the perfect piece for each of your homes.
A big part of my seasonal lines also starts with sustainability. I am a big believer that your seasonal pieces for the home should last you from year to year and your collection can grow and expand with your taste. Adding a little pumpkin every year can get you excited and keep things fresh as we celebrate our Autumn and Christmas holidays!  
You will find that all the pieces in the shop, although seasonal, are meant to be used again and again. I can't wait for you all to get your hands on 'Autumn Harvest' and for all the goodies to become apart of your Autumn homes!
With the launch today I also wanted to say, I miss this space and sharing my bakes, home, and inspiration with you guys!  I wanted to kick off this launch with a little post here to say...I AM STILL HERE! I'm hoping to use this as my own little outlet for my own home styling and to share bits of the new launches around my own home.
Let me know if there is anything you want to see as I start to bring a little life back to the Highland + Honey blog!