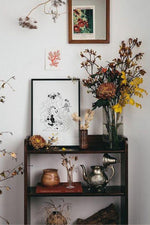 7 Ways To Style Your Favorite New Print
As a print maker I get asked this question A LOT! How do you style prints and what looks best?! 
Today, I am showing you seven ways to style new pieces and some top tips I use myself when I am styling my own space.
1. The classic solo framed piece.
Hanging a piece solo can make sense for certain small spaces or to highlight the piece itself. It is also one of the most classic and daring ways to showcase your artwork. Make sure your frame and piece work well with the space and other objects in the room.
Top tip: A lot of times a floating piece can look a bit odd just floating in mid air. Use a basket, plant, or piece of furniture to anchor your piece.
Image from collectivegen.com
2. Hello shelfie!
Styling shelves with some of your favorite prints, postcards, and home decor is a wonderful way to showcase your artwork and also get a lot of storage for all of your books and small things! Be creative with your shelfie and mix and match textures, kitchenware, prints, and more. 
Top tip: Your prints can be a really good way to bring height to your shelves. Stack them or layer them with each other and behind other objects to create depth. 
Image from thriftydecor.com
3. Bar cart style.
I'm obsessed with my bar cart and I love re-styling it for seasons and changing out the artwork as well. You can hang some pieces above it or style things on the cart. Having a little space like this in the home is the perfect way to showcase your nw work!
Top tip: A fun way to bring in your style and color is to match and curate your glassware, florals, and drinks to your bar artwork.
Image from thisisglamorous.com
4. Stacking in sets of two and three.
I sell a lot of matching prints for THIS reason. Stacking sister prints in certain spaces in your home can look AMAZING. Stack in a double like this or in a group of three. 
Top tip: Make sure the space you are using makes sense. This works below because it is the perfect nook and brings attention to an otherwise unused space!
Image from lizmarieblog.com
5. Add it to your gallery wall.
Yup! Your gallery wall is going to look SOOO good! Adding a new piece to your gallery wall can make your space look fresh and amazing! If you don't have a gallery wall...work on creating one! 
Top tip: Keeping a color scheme for your gallery wall is KEY to make sure it all gels together. Below they have used pink as a cohesive color between pieces.
Image from mortilmernee.blogspot.nl
6. Lean against a bookshelf or dresser.
It is all about that lean! Leaning pieces on a dresser, bookself, makeup area or frame shelf can be a SUPER easy way to move items around and add layers to your space. It also means you can dust and clean those areas easily! 
Top tip: A lamp and 1-2 frames in ANY space can transform your room and make it look super luxe. Again, make sure to layer and style your shelf for a comfy/homey look. 
Image from lonny.com
7. Style the print itself 
One thing we often forget is that the frame itself can be a really amazing palette. I love hanging some of the tassels and leaves in the shop on my frames. It just isn't done enough! 
Top tip: Use a tassel, wooden beads, or Christmas ornaments and hang them on the corners of your frame. Secure with tape or make sure the string is properly hangng on!
Image fromhonestlywtf.com