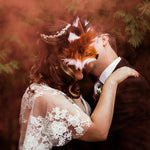 Mr. and Mrs. Highland+Honey Got Married: Our New York Wedding
I've been wanting to post these pohotos for a while but Adam and I have been in wind-down mode from celebrating not one...but TWO WEDDINGS! Before you ask, yes I wore the dress twice, and yes we did a FULL wedding in two different countries about a month apart. 
We have just now been writing our thank you notes to everyone and enjoying some much needed personal time. It's been a couple weeks of lying low and we're finally able to share some amazing shots from our New York wedding. 
Adam and I officially got married on September 8th in Cazenovia, New York, my hometown! Caz is a beautiful little lake town in central New York and the place I love to return to for a proper vacation and detox from UK life. We went back and forth on where we wanted to get married. It was important to both sets of parents that we do something in Scotland and in the USA. I knew I wanted to have an autumn wedding and that you can't beat the beauty of central New York in the fall (sorry Scotland!). 
First, we got married at Immaculate Conception Parish, a couple towns over from my home. It is the church I grew up in and still love to attend when I am back home. I used to call it 'spider church' because of the big metal sculpture that sits over the skylight. I was blown away when we got our photos back and our photographer, Michelle, has turned spider church into a stunning mid century modern photo! It made me look at my church a bit differently and loved the way she captured our simple woodland decor in this space.  
We also ended up doing a full mass. At the time, I was really concerned and nervous about having a full mass because no one in the U.S. really does that anymore. Adam and I are not currently attending mass regularly so I was unsure if it was the right fit. After a lot of research, I know a lot of couples don't know what to do! In the end, it was amazing, and it gave us the time to really sit and have a special moments during our marriage ceremony. Our guests loved it as well because it was so unusual for people to have a full religious ceremony. Father Ryan did an amazing job of making people of all denominations feel right at home. 
We then invited guests to my parents home where we hosted the full reception. From drinks, chatting, dinner, and dancing! 
I was super set on wanting to embarce my love of all things woodland and autumnal. I did pitch this theme to Adam once as 'Alice In Wonderland/Woodland/Chic' and he just stared at me. My mom and sister on the other hand 100% got me. Planning the event from abroad, I needed all the help I could get from my mom and sister to help me to collect all of the pumpkins, table decor, and silverware for the event. I jokingly called my mom my bridesmaid because she literally saw my vision and ran with it. GO MOM! In the end, the space was exactly what I wanted: tents, good food, autumnal chic, fire pits, and dancing! 
The day was so amazing! It is so true that the wedding evening absolutely flies along as you are chatting, eating, and dancing. I was trying so hard to make sure I said hello to everyone that my sister yelled at me and told me to go dance at one point.
Adam and I had a wonderful time spending time with family and friends in New York and I wish I could have left the bar and decor up for days of fox dancing!  
I basically LOVED all of my vendors that I worked with and could not have been happier. If you are planning a wedding in the area, look no further. I've featured all of the awesome humans below.
Venue: Woods Family Home
Photography: Michelle Frederick Photography
Florals: Whistle Stop Florist
Catering: Pepper Chef
Band: Soft Spoken Band
Invitations: The Fuzzy Bee Paper Company
Wedding Cakes: Mama Woods and Mama Connelly
Fox Cake Toppers: Barruntando on Etsy 
Ceremony Programs: The Fuzzy Bee Paper Company
Illustrated Wedding Map: The Fuzzy Bee Paper Company
Fox Masks: Spirit Parade on Etsy
Cake Stands: The Fuzzy Bee Paper Company
Hair/Makeup: Bliss Hair Salon
*
Marisa's Dress: Maggie Sottero 
Marisa's Shoes: Naturalizer Silver Balle Flat
Marisa's Earrings: Vintage from Great Grandmother
Adam's Wedding Band: Wood Wedding Bands on Etsy 
Engagement Ring + Band: Kristin Coffin on Etsy