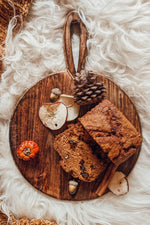 My Family Recipe: Pumpkin Bread
My mom has been making this recipe for YEARS. Every autumn through to Thanksgiving she makes this as a fall favorite or casual hosting gift to eat and enjoy all season long. What I love most? It is super easy and takes about ten minutes to throw in the oven and enjoy.  
Back home in New York we tend to eat sweeter items for breakfast so I often eat this in the morning with some fruit and a big cup of coffee. Although Adam prefers it as a pudding. No matter what it's freaking delicious!  
Ingredients:
1 3/4 cup of flour

1 1/2 cups of sugar

1/4 tsp baking powder

1 tsp baking soda

1/2 tsp of salt

1/2 tsp of ground cloves

1/2 tsp grated nutmeg

1 tsp cinnamon

2 large eggs
1/2 cup vegetable oil
1 cup pumpkin puree
1/2-1 cup raisins (this is the part where you can get a bit creative. I loved adding in pecans and raisins. You can also do chocolate chips if you prefer. Add whatever you want and it will be yum.)
1/3 cup of water 
Directions:
Into a bowl, sift together flour, baking power, baking soda, salt, sugar, salt, cloves, nutmeg, cinnamon, and raisins. 
In another bowl beat the eggs, oil, pumpkin puree and water. 
Pour the wet mixture into the dry and mix to combine. 
Pour batter into a buttered and floured load pan. You can also use loaf tin baking liners if you have those around. 
Bake at 175C/350F for one hour. 
Let cool for twenty minutes before serving or removing from tin.
Enjoy!