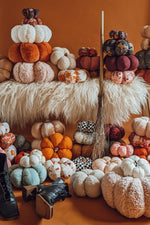 It's that time of year again when the shop gets busy busy for our autumn and holiday launches. I wanted a little place that you could go to with ALL the details from phow re-ordering works, all the pumpkin details, and our general FAQ for how to shop a successful launch night. 
Here we go...
LAUNCH NIGHT DETAILS:
The whole 'I Put A Spell On You' collection will go live on the site on September 8th at 8PM!
A preview will go up on Wednesday the 7th at 8PM! That is so you can plot and plan and your cart for shop night and see the new pieces. 
Items that are new/restocking for launch will show up on the website as 'sold out' until that time and you will not be able to add anything to your cart until launch night at 8PM. 
Each collection for autumn will be different! Each one will have different home goods, apparel, and pumpkins shapes and fabrics to choose from. 
All items in the shop are small batch. This means I only make and create 1-20(ish) of each item to reduce overstock and waste in the shop. 
That means some items sell out on launch night so we always suggest popping up on time for launch to make sure to can snag the items you want! 
I am a one woman shop! Adam (my husband) is helping me pack for larger launches AND I will have extended hour the week of Sep 12th to try and get everything out as fast as possible! Thank you guys in advance for your patience as I ship out Autumn happiness to you!
 PUMPKINS: 
The 'I Put A Spell On You' collection is all about cozy/spooky autumn! So the pumpkin fabrics and textures are picked around our theme! 
We make about 350-400 pumpkins per launch so please be patient as they can take 5-7 days to head your way! We pre-make about 100 and then stuff and add a stem onto your pumpkins for the rest once they are orderd. 
If a certain pumpkin fabric is SUPER popular I will try and bring it back for the next autumn launch. 
Most pumpkin sizes and styles are unique to a launch so make sure to grab the ones you want!
The pumpkins from last year and the styles this year can all be mixed and matched to create or expand your collection. 
Every pumpkin purchase comes with an exclusive note card on how to care for your new pieces. 
APPAREL ORDERS:
Some orders from the ine are printed with a local printer. This helps us reduce waste and not over order fun things I want to make for you guys! 
Once your apparel order comes in we will place an order with our local printer. We do this on a Mon/Wed/Fri. 
Apparel can take 5-7 business days to print and ship.
For this launch we will be notifying you once the apparel is ordered and again when it is shipped. 
MULTIPLE ORDERS:
You can put in multiple orders if you wish and I am happy to combine postage for you. This normaly happens if you want to grab the pumpkins you love and then keep shopping the site for other items on launch night. 
Shipping is based on weight so you will be refunded an excess postage once your orders have been combined and shipped.  
To combine an order from launch night please email me at hello@highlandandhoney.com with your order numbers by September 12th!