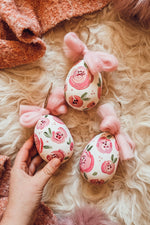 It's that time of year again when the shop starts to get ready for spring! There are a ton of new pieces in the shop and some of you honey bees are doing spring cleaning and decorating for warmer months ahead. It's time to shop so...
Here are the launch FAQ's for spring! The basic FAQ page on the site also has all the details you will need to shop for launch.
LAUNCH NIGHT DETAILS:
The whole 'Pocket Full Of Spring' collection will go live on the site on March 14th at 8PM!
A preview will go up on Monday, March 13th at 8PM GMT! That is so you can plot and plan and your cart for shop night and see the new pieces. 
Items that are new/restocking for launch will show up on the website as 'sold out' until that time and you will not be able to add anything to your cart until launch night at 8PM. 
Each collection for spring/summer will be different! Each one will have different home goods, apparel, and cushions shapes to choose from. 
All items in the shop are small batch. This means I only make and create 1-20(ish) of each item to reduce overstock and waste in the shop. 
That means some items sell out on launch night so we always suggest popping up on time for launch to make sure to can snag the items you want! 
I am a one woman shop! So I am working to do all of the admin, photographs, and behind the scenes. Thank you guys in advance for your patience as I ship out spring happiness to you!
 APPAREL ORDERS:
Some orders from the line are printed with a local printer. This helps us reduce waste and not over order fun things I want to make for you guys! 
Once your apparel order comes in we will place an order with our local printer. We do this on a Mon/Wed/Fri. 
Apparel can take 7-10 business days to print and ship. It normally is a bit faster but that gives you a timelines. 
For this launch we will be notifying you once the apparel is shipped. 
MULTIPLE ORDERS:
You can put in multiple orders if you wish and I am happy to combine postage for you. This normaly happens if you want to grab popular bunnies or other items you love and then keep shopping the site for other items on launch night. 
Shipping is based on weight so you will be refunded an excess postage once your orders have been combined and shipped.  
To combine an order from launch night please email me at hello@highlandandhoney.com with your order numbers by March 16th!