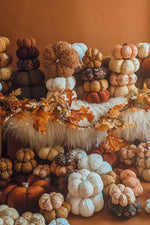 Fabulous Pre-Orders And How They Work-Launch One
It's that time of year again when the shop gets busy busy for Autumn and so I don't end of like Lorelai on the eve of the Dragonfly Inn opening I have been making and creating for a couple months in advance!
Based off of lots of feedback from last year I wanted to offer a couple pre-order goodies for you to grab before the 'One Autumn Day' collection lands August 1st 2023. All of the details are below!
What is on pre-order? Both the bee box and some of the new apparel are on pre-order before the 

'One Autumn Day' collection launches. Sweatshirt pre-orders are open through this Friday (July 21st)  and the Bee Box pre-order is open while supplies last.   
How do I put in the pre-order today? All you need to do is add the pieces to your cart and checkout the way you would for any other order.
When is payment taken? Now. These will be ordered the weekend of July 22nd-23rd with my local printer so payment is taken now to cover those costs. 
Can I order anything else with a pre-order? Yes, but those items will ship when your pre-order items ship.
When will my order ship? All pre-ordered pieces will be going out right after launch from August 2nd-5th. We will be combining your pre-order with any other orders you make on launch night (August 1st) only if you use the same name, address, and email. The pre-order will be sent separately if you order after August 1st. 
What happens if I don't pre-order? Pre-orders are for those of you who would like to secure your goodies before launch night. For sweasthirts, it means your items will be shipped out with your launch night order and it will all arrive together. I am also offering free shipping for pre-orders. For the Bee Box, these items may sell out as I have pre-pared a certain amount of pre-orders at this time. 
Will anything else be on pre-order? Not at this time! As always many of items are small batch so I make and create a ceratin amount for each launch. Everything will go up at the same time so everyone has an equal chance. 
Will these items still be available on launch night if I don't pre-order? Yes! But free shipping will not longer be applied and your sweatshirt and tee orderes will take the standard 7 days to ship out as we get them printed once an order is placed. This helps reduce waste on our end. 
If you have any other questions please let me know via email at hello@highlandandhoney.com or by DM.